Music™: Recording/Sampling Duckstation has built-in audio recording functionality it can be found inside: ("Debug" -> "Dump Audio") While the process might not sound appealing, it's absolutely best way to record PS1 audio - this way you can easily obtain CLEAN mixdown.wav total recording of whatever music/sfx/noise you're performing, keeping you safe from any PC interference like notifications, audio players and even emu-lag! (Low-spec musicians will appreciate that a lot - no more risky Audacity recording!)
This page will explain you how to use it!
make sure You're USING Duckstation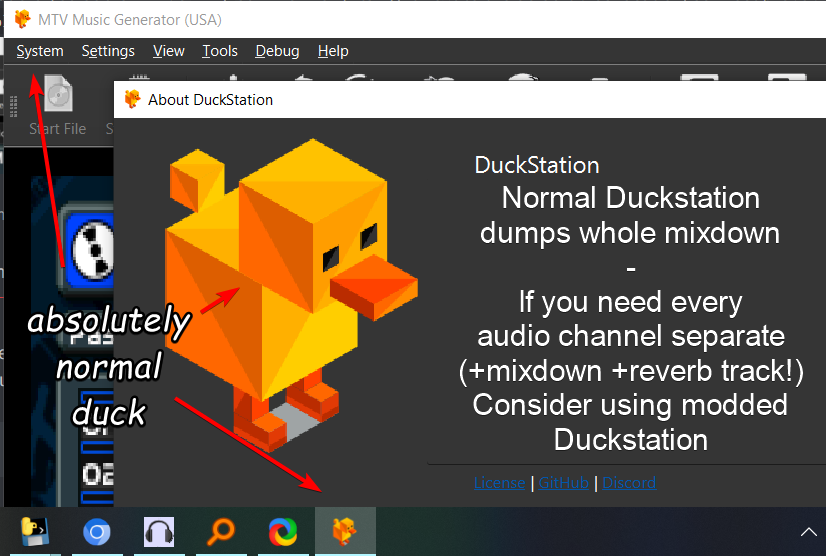 Enable "DEBUG MENU" in settings
go to "Settings"->"Advanced Settings" then tick "Show Debug Menu"! New "Debug" button should appear: Inside there's our recording button!
It's possible to start/stop recordings inside Settings-> Audio Settings but that involves more menu digging and is way less convenient than the way we do here!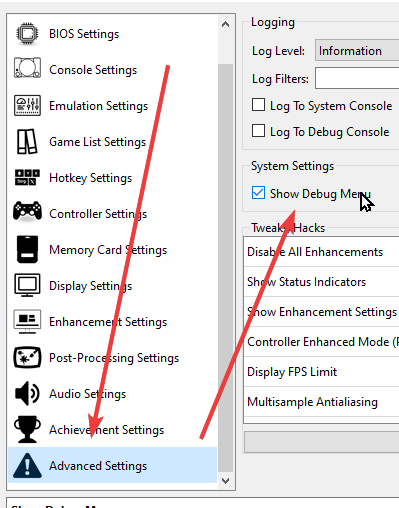 Audio settings wise, you're free to tweak "Backend" part - it affects the sound tiny bit, but generally it's best to keep it as latency-free as possible for your own comfortable music making Audio recording STARTS when "Dump Audio" is ticked: It will be recording as long as you got it switched-on!
to FINISH recording, follow same steps like above!
Ending audio-dumping is crucial so your recordings don't get corrupted (and keeps your storage clean!)
All recordings can be found in Duckstation's personalized directory (DuckStation\dump\audio). This folder is easily accessible through ("Tools" -> "Open Data Directory...") Music2000 will only read Audio CDs, and nothing else! Such audio images are easily made by most CD burnning software, but almost none allow to create your audio CD as a file on PC! One of few software doing it is UltraISO! here's guide how to use it:
(TRIAL VERSION IS ENOUGH FOR US!)
Only ".WAVs" and ".MP3s" are accepted! make sure your audio samples are CD quality (Stereo; 16 bit; 44.1khz)
1. Inside Music2000 select "CD player" option; (it's right next to "Load and Save") 2. Choose "No video". (You will see a message asking you to change CDs) 3. In top-left corner of Duckstation emulator, open up "Systems"-> "Change Disc"-> "From File..." 4. Choose ".cue" file of audio CD image you made (".bin" will not work!) If done correct, you should see this little audio player in the bottom right corner! Play track you want to sample, and press RECORD: Sample will start from the moment you press this button! Stop when you're done - New sample will be available in the lowest free Sample Palette number! List of other apps SOON! just no time to move all that text above :p
You got your wonderful song recorded!
Most likely your song will need such as: -Crop the silence at the start and the end; -Normalize so whole track is brought to full volume; -Apply limiter to bring down loudest parts;
There's tons of audio apps on various systems, I could definitely recommend those: Screen recording software for sending quick snippets
Both are fully featured Audio Workstations
Privacy-safe Audacity fork